I have never asked for any donations to this website despite the hundreds of hours I put into it for free. If you have ever thought of contributing please do so below for a good cause.
Hurricane Sandy ravaged the New Jersey coast and while it may not be in the news anymore, many people are still suffering. Flooding damage to the barrier islands was severe and FEMA is not providing anywhere near the funds people need to repair their homes or replace their cars.
Popular Technology.net is sponsoring a local victim who was devastated by the storm. This is a more efficient way to get help to those who need it than donating to organizations like the Red Cross.
Christine's Hurricane Sandy Story
I tried evacuating Brigantine 12 hours before the storm hit at 7 in the morning but the incoming high tide had already washed out the causeway road to the bridge and I had to turn back.
My car got me home safely through flooded streets only to see the street in front of my house turn into part of the bay 20 minutes later. Thankfully our wonderful fire department was able to evacuate me at low tide by boat (that is me in the picture) before the next high tide hit.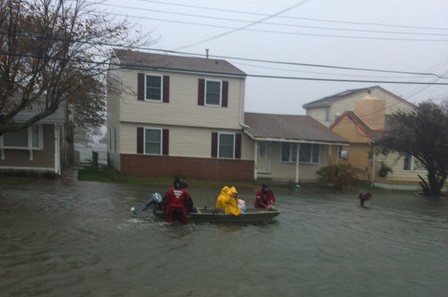 I rode out the storm in a shelter and spent three nights there until it was safe to return to my house. When I returned I found that my car had been under several feet of water and the whole first floor of my house had been severely flooded, damaging everything.
This video is during the Monday morning high tide showing extensive flooding in Brigantine. The high tide Monday night was much worse.
100% of all donations will go directly to the victim.